From converted train cars to converted prisons, travel Web site VirtualTourist.com has come up with its picks of the 10 most unusual places to stay.
"With limited vacation time, there's no reason your lodging shouldn't be part of the travel experience," said VirtualTourist.com general manager Giampiero Ambrosi.
1. Edisto River Treehouses – Canadys, South Carolina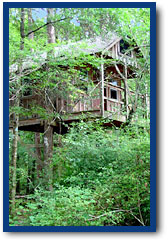 For those who refuse to grow up, a stay in a tree house is a dream come true. Not only is it fun, but it's clean, safe, and very reasonable.
Each treehouse is tucked in the woods out of view of any other, nestled in the trees on the river's edge, located on its own private, gurgling creek, solidly constructed of completely natural, often local materials, fully furnished with kitchen, futons, outdoor grill, dining deck, screened with a well-vented sleeping area.
This small tree-house-sized cabin is nestled in the woods. It comes simply equipped with a gas stove and a gas lamp. Those not sleeping in the loft have a double futon. A charcoal grill and picnic table are just outside your door. Rental includes the use of a canoe.Cost: $100 per person per night.
2. Celica Hostel – Ljubljana, Slovenia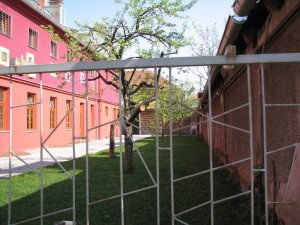 If you've always wanted to spend a night in the slammer, now's your chance. Once a military prison, this happening hot spot is now an art gallery/youth hostel
Hostel CELICA is a fully artistically renewed former prison on Metelkova street in the center of Ljubljana. The hostel is only 5 minutes walking distance from the main railway and bus station.
Hostel facilities: 24/7 service, Luggage room, Safety deposit box, Guests kitchen, Laundry, Wheelchair friendly, Friendly staff, Cyber point, Library, TV room, Souvenirs, Tourist information point, Hostel Information Point – HIP, Meeting rooms.
3. Schottenstift Monastery – Vienna, Austria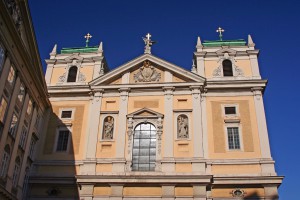 If the bellboys look like monks, you're not imagining things. This hotel is actually a functioning monastery where your wake-up call might just be chanting.
Staying at the Schottenstift Monastery Guesthouse was the single best thing about my trip to Vienna. I can't imagine any hotel which would have pleased me so much or any more perfect location. The Schottenstift was founded in 1155 and while the gueshouse is relatively modern, the entry through the vast door and up the winding staircase is staight out of some medieval knight-templars tale. There is one triple room here and it is worth booking for two, just for the view.
Directly opening on to the street, every morning I could throw open the windows and savour all the sights and sounds of Freyung and the Christmas market. Waking up to pealing bells was a constant pleasure and coming home each evening to this warm, other-worldy haven right in the centre of everything was a thrill every time. Breakfast is included in the price and while it does not include any hot foods ( like bacon and eggs) there are loads of cheese, salami, breads, cereals, fruit etc.
There is a small extra charge for staying just one night. The Benedictushaus is open to all. though not very many people know about it.
4. The Red Caboose Motel – Strasburg, Pennsylvania
All aboard! Although they once traveled from city to city, these little red cabooses now function as private hotel rooms. Needless to say, kids go crazy for this place.
It all started in 1969 when Don Denlinger was dared to bid on 19 old cabooses being auctioned off by the Pennsylvania Rail Road. Although Don jokingly put in a bid below the scrap value of the cabooses, he still had the highest bid and was now stuck with the old train cabooses. What can you do with 19 Rail Road Cabooses???
What started off as a dare has grown into one of Lancaster County's most unusual motel, with over 40 rooms made from fully restored 25-ton cabooses. Located in the heart of Amish farmlands, the Red Caboose is now owned by Larry Demarco. After years of neglect, Larry has begun to fully restore the many colored cabooses to bring back the family fun.
5. Propeller Island – Berlin, Germany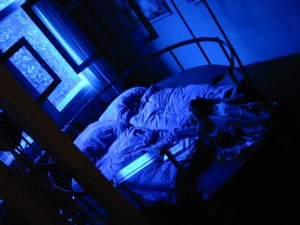 Art lovers rejoice! From upside-down rooms to levitating beds, it's the next best thing to spending the night in a museum.
Propeller island – this means aesthetic sensation for the eye and the ear. propeller island is a pseudonym used by the german artist lars stroschen to publish his audio-visual creations. unlimited diversity, repeating nothing and copying nothing are the guiding principles here.
the most popular result: the CITY LODGE, a habitable work of art in the heart of berlin, whose wealth of ideas never fails to attract everyone into its gravitational field and to continue inspiring guests long afterwards. a magnet for creative individuals, those weary of consumption, those who see things differently, philosophers and seekers of perspective and vision. frequented by personalities from around the globe, this vision machine is a much-desired shooting site for photo sessions and video clips. is that perhaps the reason these rooms seem so familiar to you…?
6. Schlosshotel Sch̦nburg РOberwesel, Germany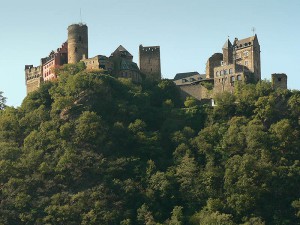 For a true fantasy experience, nothing beats a night in a genuine castle. In spite of its long history, all modern amenities, including Internet service, are available to guests.
Schlosshotel Schönburg in Oberwesel – about 10km downstream from Bacharach – is certainly one of the most expensive, but also very best and most exclusive castle-hotels along the river Rhine. The old castle dates back to the 10th century and today the castle is used partly as a luxury hotel and another part of the old castle is used as a "Kolpingheim / hostel" and a hotel next to the castle.
7. Ariau Amazon Towers – Near Manaus, Brazil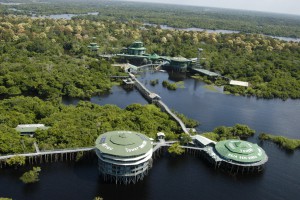 Connected by a series of catwalks, eight buildings comprise this compound, which has become a favorite of celebrities and everyday travelers alike.
"Imagine a hotel built among Amazon treetops: catwalks 70 feet up leading from a great circular dining room of polished tropical woods, a bar like an eagle's nest, a honeymoon suite built 110 feet up a mahogany tree, and friendly monkeys, macaws, sloths, and parrots scampering, fluttering, and dangling all over the place."
Conde Nast Traveler, March 1996
Ariau Amazon Towers Hotel is located 35 miles from Manuas, Brazil at the confluence of the Rio Negro and Ariau Creek. Built entirely at the level of the Rainforest Canopy, Ariau's towers are linked together by 4 miles of sturdy wooden catwalks. This architectural wonder affords visitors a unique communion with the regions abundant flora and fauna while leaving the fragile eco-system completely undisturbed.
8. Hotel Sidi Driss – Matmata, Tunisia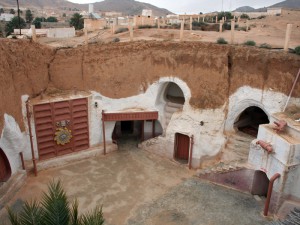 The force was with the cast and crew of Star Wars when they filmed at this out-of-this-world property. The amenities are minimal, but at less than $20 a night, so is the price.
The Hotel Sidi Driss, where scenes from the Lars homestead in Star Wars were filmed. Accommodation is simple (the bedrooms are formed from individual caves hollowed out from the rock, with shared bathroom facilities), but unique; visit for a day trip or spend the night.
Ask your hotel if they can arrange a tour of a traditional troglodyte (cave) dwelling; many such properties are located around the village and are today still inhabited by local families. There is a small museum behind the Hotel Sidi Driss, displaying local history. The stone village of Tamezret, 10km west of town on the Douz road makes an interesting side trip.
9. Euromast – Rotterdam, The Netherlands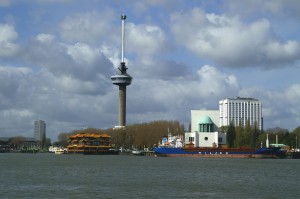 A tourist attraction by day, this imposing tower becomes an exclusive hotel at night. Those wishing to give it a go should book early; the tower's two suites fill up three months out.
Book the Euromast for a night and you'll feel like playing the leading role in a Hollywood movie: A bottle of champagne is waiting for you and till 1 o'clock in the evening you can order room service, the view of Rotterdam is breathtaking and inside you'll experience the charm and romance of the sixties. The building dates back from that period and high up on the Euromast you can feel it too when you're rocking on the wind and when in winter frost flowers are covering the windows (no double glazing). Even the furnishing of the suites is completely 'sixties'. And you can go outside as well. From 10 o'clock in the evening till 10 o'clock in the morning (from April to September till 9.30 hrs) the biggest and highest balcony in Rotterdam is all yours and yours alone.
10. The Giraffe Manor – Nairobi, Kenya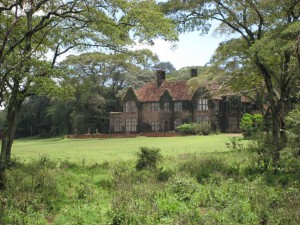 Don't bother with a "Do Not Disturb" sign. The long-necked visitors who peek in through the windows of this extraordinary compound will just ignore it.
The Giraffe Manor is an elegant, personally hosted, small and exclusive hotel, famous for its resident herd of giraffe. The Giraffe Manor offers a rich blend of welcoming accommodation, highly trained and friendly staff, as well as one of Nairobi's finest kitchens.
Travellers from all over the world now make The Giraffe Manor part of their East African safari, the only place in the world where you can enjoy the breathtaking experience of feeding and photographing the giraffe over the breakfast table and at the front door.