Chippewa Lake in Ohio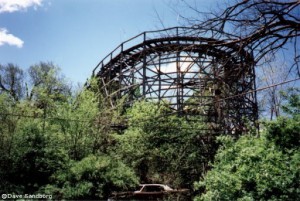 Chippewa Lake (formerly Chippewa-on-the-Lake) is a village in Medina County, Ohio, United States. It is located on Chippewa Lake, Ohio's largest natural inland lake. The population was 823 at the 2000 census.
"Chippewa Lake" is sometimes applied to the surrounding area, even the village of Gloria Glens Park.
In the 1880s, Oscar Townsend and the Cleveland, Lorain, & Wheeling Railroad developed a prosperous vacation resort, eventually called Chippewa Lake Park, on the banks of Ohio's largest natural lake. The Great Depression and extinction of interurban rail service crippled the park, but in 1937, Parker Beach purchased the resort, and it enjoyed a swinging Golden Age through 1969, as he kept the park's ballroom filled with dancers and famous bands. In 1978, after more than 100 years of operation, Chippewa Lake Park joined the ghostly ranks of the last traditional amusement parks.